Everything we do is about you. 
Find the right addition to your team!
Together we can achieve great things!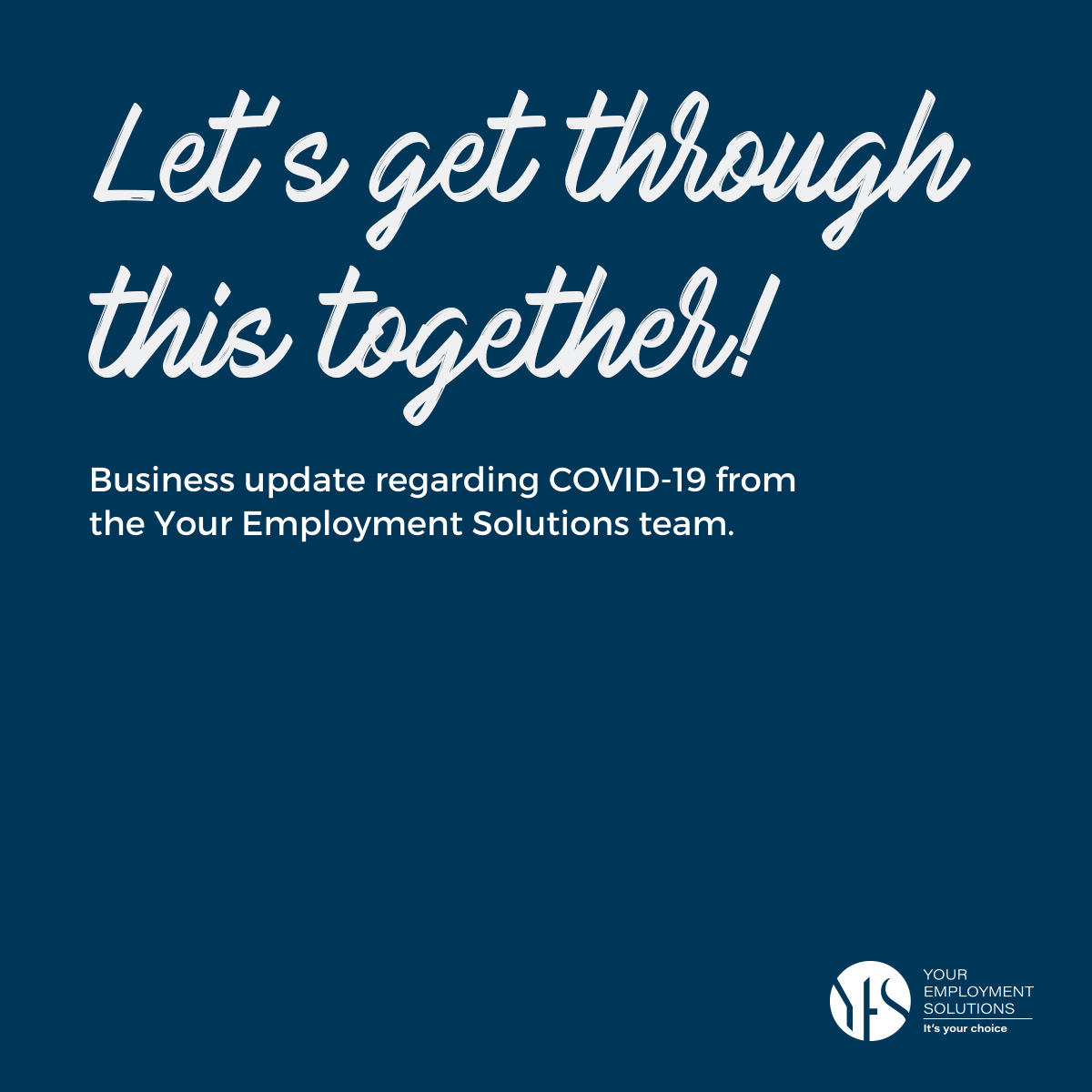 The team at Your Employment Solutions have taken extra health precautions in response to COVID-19.
We've set up our team to work with you flexibly where possible especially if there are signs of any symptoms as outlined by health authorities.
For those who are working in the office and for those who visit our office, we have hand sanitiser stationed throughout and protocols in place.
Should you also have any appointments scheduled with us and you feel uncomfortable or unwell to meet in person, please feel free to let us know. We can arrange your appointment over the phone.
Lets get through this together!
We are locals working with locals from both a job seeker perspective but also aiding employers to provide a supportive environment for their next employee. Our modern, fresh take on the disability employment industry is hands on, and tailored to the individual or business. Having over 25 years experience in the disability sector, we understand the barriers from both sides, our aim is not to just break through them but smash them, to provide a sustainable outcome.
Karen
I have been with Your Employment Solutions for just under two months, they are very helpful, very hands-on, and care about their clients. I am glad to announce that I was offered a position today, and it's all because of my caseworker and Your Employment Solutions. Thank you all, so very much, from the bottom of my heart.
Lisa
Having personally known the founders of #YES, and supported them from the sidelines in starting up their own DES; I can wholeheartedly endorse this employment agency. They have the heart for their people/clients, but have also shown great courage in creating a true person centered service in a whole new system. I'd highly recommend this employment agency to anyone who wants to grow their careers but who face barriers due to disabilities and/or societal exclusion. The founders have worked in various roles across the entire disability sector in both Australia and New Zealand; we're lucky to have such a high quality personalized service on the Sunshine Coast!!
Jo
The personal touch, their experience in the field of recruitment and they way they go the extra mile to help you find a job!
Nevon
Angela Bracken from 'Your Employment' has always been supportive and prepared to offer quality feedback as required. I have found Angela to be highly experienced and knowledgeable about in areas of employment and career pathway opportunities that are worthwhile and meaningful. Angela's support maintains your confidence and trust for opportunities that are on offer.
Naomi
Concept Laboratories has partnered with Your Employment Solutions for around 2 years now and have relied on them to deliver quality employment solutions. They have gone above and beyond in providing us with excellent staffing options and impeccable customer service. Throughout COVID, they never faltered in their care for all parties and ensured that our needs were met time and time again. In the space of only a few months Concept Labs' total employees tripled, and it would not have been possible without the help of a quality company like Your Employment Solutions. We highly recommend Your Employment Solutions to any business in need of assistance in hiring quality staff.